+18
sportsczy
Harmonica
Kebab
elitedam
Thimmy
Lucifer
danyjr
futbol
windkick
Winter is Coming
Casciavit
rincon
FennecFox7
BarcaLearning
BarrileteCosmico
zenmaster
alexjanosik
Myesyats
22 posters
Page 18 of 18 •
1 ... 10 ... 16, 17, 18
Was that penalty for Atleti legit? Seemed like Semedo didnt touch him at all and then he just kicked himself

Myesyats

World Class Contributor





Posts

: 15313


Join date

: 2015-05-03



I can't believe the state of this team ffs

Winter is Coming

First Team





Club Supported

:


Posts

: 4337


Join date

: 2013-05-09



Came in to share my thoughts about the Atleti match.

1. I understand Setiens decision fora  4-4-2, given that his ass is on the hot seat and he has an unbalanced, aging team to work I feel he was like f it, and fielded what he thought would get the best out of what we have. It's  not his fault he walked into this team that's currently in transition and is a mess. However, I can blame him for not bringing off Suarez or Vidal sooner. We have 5 subs available now, and he waits until literally until the final 20 mins to make a sub and waits until the 90th min to make another. and that's basically it. wtf is that.  I understand him saying Greizeman doesn't fit in with what the shape of the team, but I can see Griezeman at least adding something Suarez wasn't adding in a 4-4-2. So why bring him on at all in the 90th min? That's just insulting to Greizeman, and I don't see how that's suppose to give him confidence. And Vidal was total crap all match and he finished the match. So yes, on that end, he might of fielded a solid team and shape to start off, but as that match went on he failed to see  what was wrong and fix it, and make subs to help get us over the hump. All he managed to do was bring on Fati and Grizeman on incredible late and probably ruin the confidence they both now feel from the coach.

2. I have watched La Liga long enough to know that the league is indeed crooked as shit, and it does not treat all teams equally. I know, there have been seasons where it looked like it helped Barca get more calls than Madrid because probably for La Liga, it helped them have a goat team for people to watch win day in and out. Right now, since the re start, I feel we have had some dubious no calls and calls against us and on the flip side it looks like Madrid has got away with some calls and PKs that were 50/50. I think its really annoying because I feel Madrid are good enough, better than us in our state, to win the league without any help and I don't blame them for this. We are shooting ourselves in the foot all on our own, so to see the crap redo PK yesterday and the Carrasco trip called to PK are total ass. With VAR, you would figure at least one, if not both, of those goals wouldn't happen but somehow they were both passed on as goals for Atleti. So as much as I know we didn't play great, I felt we should of won that game as I don't believe Atleti should of had those goals.

3. At this point, I feel Fati should start on the left and Puig in midfield for the rest of the season. Maybe not in the UCL, but at least in the league since we are at this point a lock for second place anyway. Let the future develop, we have nothing to lose anyway. Also give Araujo some minutes given that Umtiti is likely leaving and Pique should be in his final  years.

windkick

Fan Favorite





Club Supported

:


Posts

: 6251


Join date

: 2011-06-05


Age

: 38



is there a big difference in how the shirts fit? i wanted to buy one but the feminine version looks better and without the BS on sleeves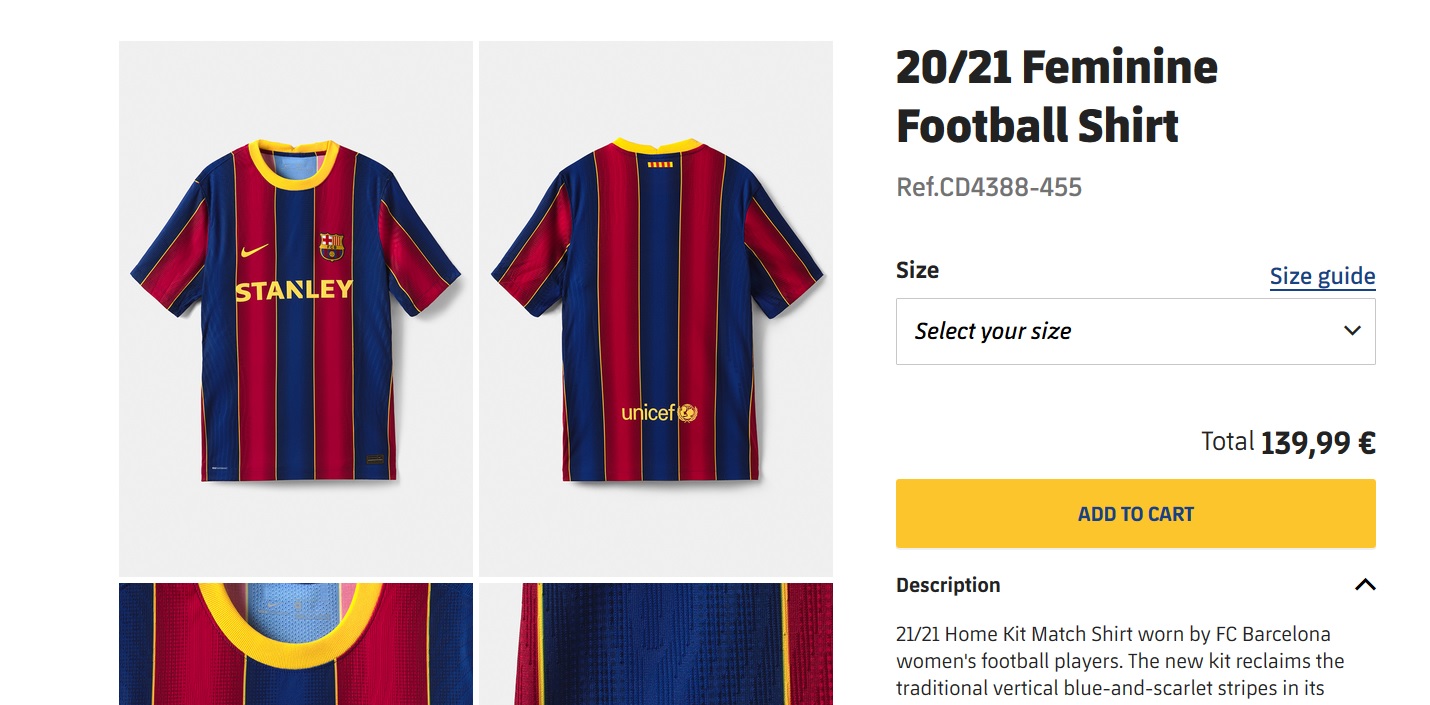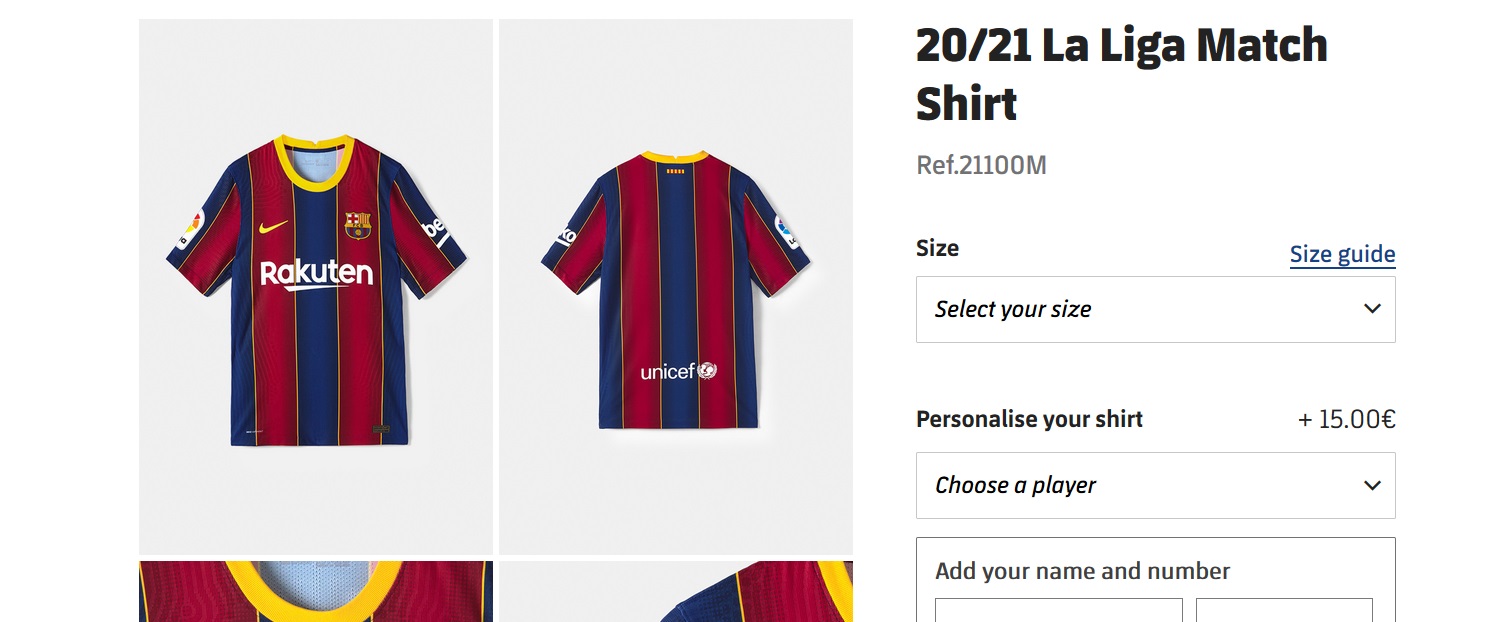 Myesyats

World Class Contributor





Club Supported

:


Posts

: 15313


Join date

: 2015-05-03


Age

: 22



check the size guide, looks like a straight fit so you might be fine

BarrileteCosmico

Admin





Club Supported

:


Posts

: 27108


Join date

: 2011-06-05


Age

: 31



@Myesyats
let me know if you want a 10% discount code for it.
Sure pm me if you're not using it. Thanks!

Myesyats

World Class Contributor





Club Supported

:


Posts

: 15313


Join date

: 2015-05-03


Age

: 22



Page 18 of 18 •
1 ... 10 ... 16, 17, 18
---
Permissions in this forum:
You
cannot
reply to topics in this forum