Valencia CF wrote:http://www.valenciacf.com/ver/59462/el-valencia-cf-esports-presenta-su-equipo-de-league-of-legends.html
http://en.valenciacf.com/ver/59462/valencia-fc-esports-presents-league-of-legends-team.html

Valencia – July 13, 2016 – Valencia FC eSports has presented its new team for the League of Legends, the most popular competitive video-game in existence today, which attracted an audience of 50 million people at its last Finals1. With this new addition, Valencia eSports has expanded its Electronic Sports Division, in which it already has professional teams for the games known as Hearthstone and Rocket League. League of Legends is a video-game that falls within the MOBA (Multiplayer Online Battle Arena) genre developed by Riot Games, in which two teams of 5 persons wage battle on a map in order to conquer the enemy team's base. Official competitions are held at a worldwide level and prizes valued at millions of dollars are handed out throughout the season. In the words of Sergio Benet, the Head of eSports at Valencia FC, "we have created a very solid squad with players such as Pepii and Adryh, who are champions from the DDH (LVP) and LCS Expansion Tournament, or Itsi, who was the MVP of the Final Cup of 2015. We have also created a solid structure and technical team featuring some considerable experience". Víctor Santamaría, the first trainer, has added that "we have a great team in order to fight for glory in Valencia FC's colors. We feel it is a great responsibility for us to represent the team, which is now expanding into different eSports disciplines".

Roster:
César Bautista García | Fénec (Jungler)
Francisco Javier Madero Heredia | Moryo (Top)
Melvin Spaan | StoMe (Mid)
André Marinho Falcão Ramos Costa | Lastwolf (AD Carry)
Isaac Flores Alvarado | PePiiNG (Mid)
Adrián Pérez González | Adryh (AD Carry)
Ignacio García Viñas | Itsi (Jungler)
Javier López Campos | Reaper (Support)

TECHNICAL STAFF

Víctor Santamaría "Ukelele"

Head Coach Marcos García "Wiskinto"

Assistant Coach Cristina Morgado Marín

Sport Psychologist Íker Rodríguez

eSports Director League of Legends

Team Manager Jenifer González

Team Manager José de Matías

This makes Valencia CF the 2nd League of Legends team; They've confirmed that they'll participate in the Spanish league and are looking to qualify for LCS in a year. Schalke had a promising start to the season but a few recent lacklustre draws have left them on the tail-end of play-off contention. Rumours are that Origins collapse might open a spot for Valencia to buy.
Current EU LCS standings: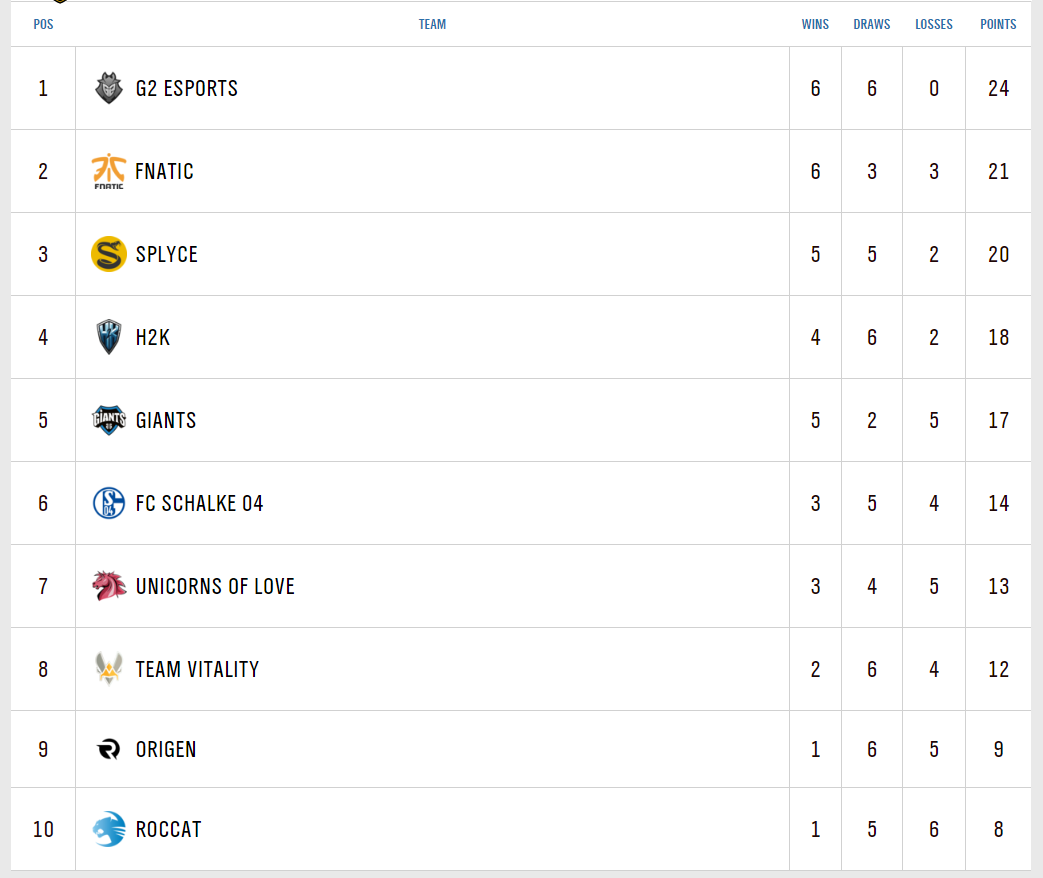 Bellabong

First Team





Club Supported

:


Posts

: 3474


Join date

: 2011-06-05


Age

: 33



I was shocked when I heard. Now we got a LOL team. Horaay.

Don't really follow LOL, tho. I just like SSB.

Lord Awesome

Fan Favorite





Club Supported

:


Posts

: 6060


Join date

: 2011-06-10


Age

: 35



---
Permissions in this forum:
You
cannot
reply to topics in this forum