+9
Warrior
Arquitecto
farfan
Robespierre
rincon
Thimmy
BarrileteCosmico
Firenze
Kaladin
13 posters
Page 2 of 2 •
1, 2
Robespierre wrote:

M99 wrote:

Robespierre wrote:It is just Serie A mate

Anyway

Kvaratskelhia

Politano

Osimehn

Simeone

Raspadori

Lozano

Zerbin

Top 4231

Ppl sleeping on Simeone, he's better than Raspadori.

I'd say he 's a definite role unlike of Raspadori.

Simeone is clearly a N.9, legit back-up, not more, anyway I admitt he looks better than he seemed.

Raspadori is a sort of hybrid, not really a SS but not really a CF, imo he should be developed as CF but  no managers never insisted to do it and his growth risks to be stopped
Taking his chances as striker for Napoli and Italy. 6th goal in a month.
Indeed this thread was prophetic, Napoli is playing like a machine.

rincon

World Class Contributor





Posts

: 16302


Join date

: 2012-06-08



Robespierre wrote:Instead I think they are even stronger now honestly
PUNDIT

Robespierre

World Class Contributor





Club Supported

:


Posts

: 17064


Join date

: 2013-11-22


Age

: 32



I trust your opinion more than anyone else's
@Robespierre
I'm just going around saying stuff I read from you and
@rincon
and people think I'm a football expert
impressive call to predict they'd be improved

Hapless_Hans

Forum Legend





Club Supported

:


Posts

: 34025


Join date

: 2013-09-18



Top of the table now. This thread is starting to make little sense each matchday tbh.

Doc

World Class Contributor





Club Supported

:


Posts

: 15828


Join date

: 2011-06-06


Age

: 35



The first is Milan's games played against top 9 sides, second is Napoli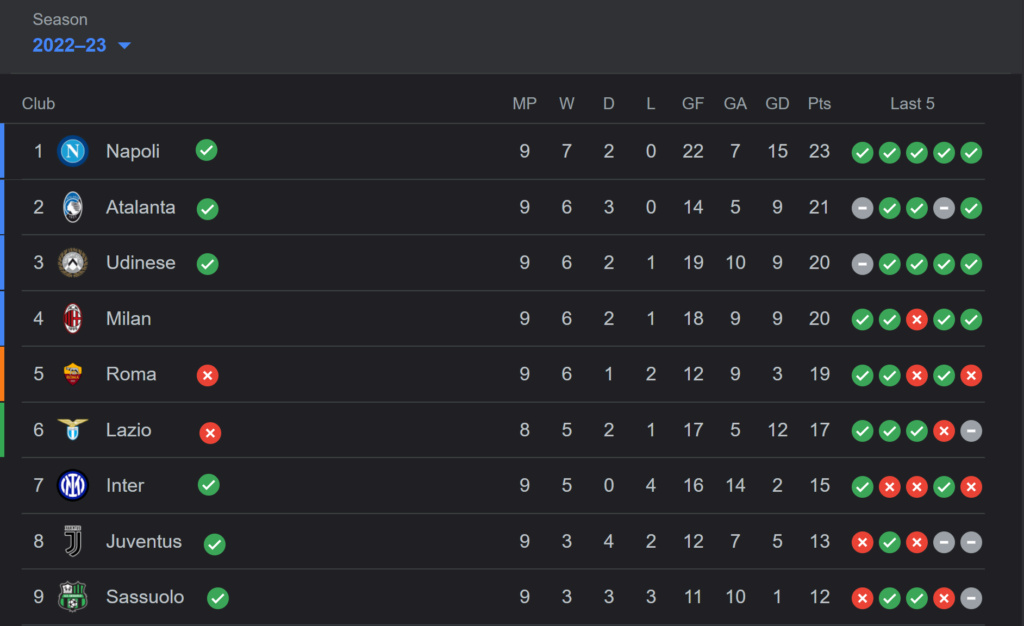 Y'all need to calm down with the constant Napoli wanking, for all the good football they purport to play. We dominated their asses at home with 22 shots all the while Leao was suspended and Rade de Kruyne was LW with Dest in for an injured Calabria.
Napoli is a B+ team, beating Pool 4-1 is a feat anyone not named Bournemouth can accomplish these days. They'll choke like they usually do.
Remember Benatia's Roma (i don't know why i associate Benatia with that Roma side but i do) when they went 10 games consecutively winning in Serie A? No Serie A side has
not
won the league with their points after the 10 games. Guess what they didn't win it
Remember Lazio as well? Cant remember if it was 12/13.
Remember Inter crowned winter champions (twice during the past couple of years now)?
Remember Milan 20/21? Unbeaten even.
I'll place a controversial bet and i'll bet my last name change on it: Napoli won't have higher points than last season.
Lets see who's man enough to take it.

Kaladin

Stormblessed




Club Supported

:


Posts

: 24564


Join date

: 2012-06-28


Age

: 29



Yes ,
They will play their usual beautiful league, deceiving theirselves, good football etc but eventually they'll bottle it

I will never embrace that thought of Napoli campione d'Italia

Scudetto is always a matter among Juve/Milan/Inter in Italy. It is not going to change this year.

Robespierre

World Class Contributor





Club Supported

:


Posts

: 17064


Join date

: 2013-11-22


Age

: 32



Page 2 of 2 •
1, 2
Similar topics
---
Permissions in this forum:
You
cannot
reply to topics in this forum