Article Link
Pretty cool to read, you could definitely see a shift in his game from diving show pony to efficient machine. Why on earth did United let this guy(Rene) go, Moyes is bonkers. Heaps of players have praised him to no end.
Article wrote:Ronaldo's rise accelerated under Sir Alex Ferguson and the coach Rene Meulensteen at Manchester United particularly at the start of the attacker's phenomenal 2007-08 season.

"Don't underestimate the importance of the manager, the father figure," emphasised Meulensteen on the shaping of the then 22-year-old Ronaldo, "but it's also about details.

"That season we won the Champions League, at the beginning, Ronaldo was suspended for three games [after being sent off at Portsmouth], so I stayed behind to work with him. I knew what Ronaldo wanted. He wanted to be the best player in the world. I told him: 'I can help you with that. There's nothing wrong with your work ethic, it's a wave pushing you forward.' So I drew this diagram for him, pointing out his details as a player.

"There's the 'tactical' bit, awareness, understanding, decision-making. There's the 'physical'; everyone has his peak fitness, especially Ronaldo, his pace, strength, stamina and agility. There's the 'personality', winning mentality and attitude. The last bit is 'technical', the basics, passing, shooting, moves, turns, and other skills to dominate the one to one. I asked Ronaldo: 'Where are you good at?' He said: 'Skills.' 'OK, so with one-touch and two-touch play, plus the moves you have, will make you unpredictable and therefore very hard to defend against.'"

Meulensteen addressed another issue. "I told him: 'The problem is also your attitude and therefore your decision-making. At the moment you're playing to put yourself into the limelight, to say "look at me, how good I am". Therefore, Mr Ronaldo, you are doing a lot that doesn't mean anything for your team-mates'. He accepted this. I said: 'You need to score more goals. Targets, aims.

"Cristiano, I've looked at your goals last season, and you only scored 23 because you want to score the perfect goal all the time. 'Look at me! Top corner!' The most important individuals are the ones who elevate the team, not themselves. You think it's the other way round. No, no, no. Elevate the team and the team will then elevate you.'"

The Dutchman asked United's No 7 to set a goal target. "Ronaldo said: 'I think I can score between 30 and 35 goals.' 'OK,' I said. 'I think you can go over 40. This week, in these training sessions, I'm going to work on your way of finishing.'"

They first discussed Ronaldo's mindset when approaching goal. "I told him: 'Look at Shearer, Lineker, Solskjaer and Van Nistelrooy: who say give me the ball, that goes in the back of the net.'"

Ronaldo was focused more on the spectacular. "He was thinking: 'That ball comes to me, I hit it top corner.' I needed him to get out of that. I told him: 'It doesn't matter how you score, where you score, as long as the ball goes in the net.'" It was time to score ugly goals as well as beautiful ones.

"We worked on positions, which zone he was in, 1 (in front of goal), 2 (to the sides) or 3 (further out). We worked on what type of finish. One-touch. Do you need to control it? Volley it. Pass it in. Side-foot it in. Chip it in. We worked on certain goalkeepers. Did they have a certain trend? It's details. When [post-Ronaldo] we played Schalke away in the Champions League semi [in 2011], we knew that Manuel Neuer, a good goalkeeper, was like Peter Schmeichel and would come out with a star jump [spreading himself]. So we worked on finishes low to either side, low through the legs.'' Ryan Giggs scored.

Back in that early-season period at Carrington in 2007, Meulensteen and Ronaldo worked on different goalscoring scenarios every day but with one staple for each drill. "It was four repetitions, move on, four repetitions, move on," Meulensteen explained. "That's what I've learned from experience. People hold their concentration for 1 2 3 4 Bang.''

Ronaldo was educated to create an image of the situation and the desired outcome: "Where am I [position]? Where's the ball coming from? Where's the goalkeeper? Where's the finish?" Meulensteen gave colours to the four corners of the goal. "Cristiano had his back to the goal. He had to shout which colour, green whichever, he was aiming for, so subconsciously working his brain. He knew his target in advance.''

By the end of January, Ronaldo had scored 27 for United. "You have to reset your target because you have already achieved it,'' Meulensteen said to Ronaldo at Carrington. "You can now do two things, you can take your foot off the pedal, say 'I'm happy with this', or break your personal best and then you have March, April, May to come and that's when these things are won." Ronaldo was determined to continue his upward trajectory. "Now we worked on 'attitude','' continued Meulensteen.

"I put a video together for him about top professionals like Muhammad Ali, Pele with little quotes from them. 'Just have a look at this video,' I told him, 'I know you have a big TV. Read the clips. It will put you in good stead.' There were little quotes about hard work and focus: focus on performance rather than outcome, focus on putting your qualities for the team and also body language. There were loads of times with Cristiano when he shrugged his shoulders, so I put a video clip together."

The clips were of Ronaldo's body language. "Do you realise how important an impact body language and facial expressions have on the millions watching?'' Meulensteen asked Ronaldo at Carrington one day. "What do you mean?'' Ronaldo replied.

Meulensteen continued: "Do you remember the goal you scored against Sporting [Lisbon on Nov 27, 2007] at home, the free-kick? You turned around to the camera, and did this [spreads hands out]? What were you trying to say? Sorry? Or were you trying to say 'look at me, nobody else can do that'?''

One of United's kit-men was present.

"I asked him what he thought the gesture meant," Meulensteen recalled.

"I'm the best," was the kit-man's take on Ronaldo's stance. So Meulensteen turned to Ronaldo and said: "That's what the millions think. They look at you as arrogant. You do the same thing when you get hacked down, 'ahhh', toys out the pram: 'You can't kick me, I'm Cristiano Ronaldo.' You need to learn to play football the way Bjorn Borg and Roger Federer play tennis. Ice-cold. The moment people stop kicking you is because they've found another way to stop you. You want people to kick you. You need to make sure you see it coming. Make sure you're clever'."

It was back to the video-room. "I showed him clips of Johan Cruyff, an expert at avoiding tackles. He saw them coming, would change direction, and people would slide in front of him. I told Cristiano: 'The most important thing is your facial expression, don't react at all. Stand up, brush yourself off, and that defender thinks, 'what can I do next?' Overpower him with your qualities as a footballer, belittle him with your skill. You're in control, not someone else.'

"If you look back to the season, he was tremendous. He scored 42 goals. Look back to the Champions League final: he scored the header, fantastic, apart from one moment when he let himself down, the [missed] penalty. That's when Ronaldo thought: 'It all comes down to me, that's what I want.' What happens? He loses focus. I mentioned it to him afterwards but he knew."

So what of Bale's arrival at the Bernabéu? "I don't think it will affect him [Ronaldo] that much," Meulensteen said. "In my opinion, Bale is nowhere near on the same level, absolutely not. Ronaldo is a far more complete player. Bale will still be important. He has time to settle in. It will make Real Madrid stronger, even more powerful. But if for whatever reason Bale came and Ronaldo would leave it would make Real Madrid weaker."

lszanto

First Team





Club Supported

:


Posts

: 3354


Join date

: 2011-07-24



Good read. If only Meulensteen improved the defensive side of Ronaldo's game.

Onyx

Forum Legend





Club Supported

:


Posts

: 39995


Join date

: 2011-06-05



Nice read, although i think he is still quite arrogant. Even after all the work.

Nirgall

Hot Prospect





Club Supported

:


Posts

: 447


Join date

: 2011-10-05



That was a very good read, thanks!

Uncanny

First Team





Club Supported

:


Posts

: 1578


Join date

: 2012-11-02


Age

: 31



Read it earlier... It's a good article...
Bale's development was very similar, after his Alice-band incident, he pulled up his socks and became much better
_________________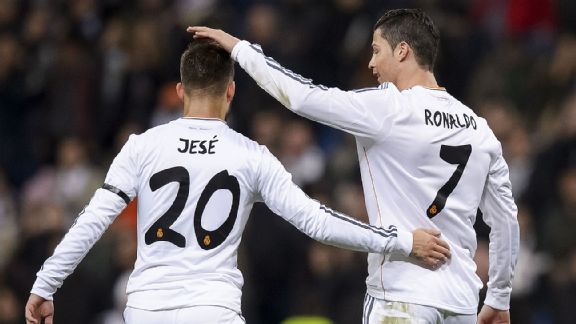 Helmer

Fan Favorite





Club Supported

:


Posts

: 8938


Join date

: 2012-08-15



---
Permissions in this forum:
You
cannot
reply to topics in this forum