clearly our defense is disaster. and we have no one to provide additional hand in last def line
4-2-3-1 wont work anymore without a true no.10 or a good centre forward (the case is benz). don't see Ancelotti will use morata as regular starter over big name. and 4-4-2 lately been disaster as well.
here i propose using pepe as the sole defensive mid in front of the last line hence formed the 4-1-2-3
with his ability, he will excel there, what making him looks sucks lately is his concentration on match and def awareness, u cant have someone in that state to hold on the last line, but if as dm, he is free to challenge and boss the midfield on defensive end as he like without worrying much bout the positioning
other than that, we would have a true defender (pepe) back to the centre when 1 of our CB (varane/ramos) cover the flank hole left by att-aggresive marcelo or carvajal.
instead of modric or khedira with no aeriel ability.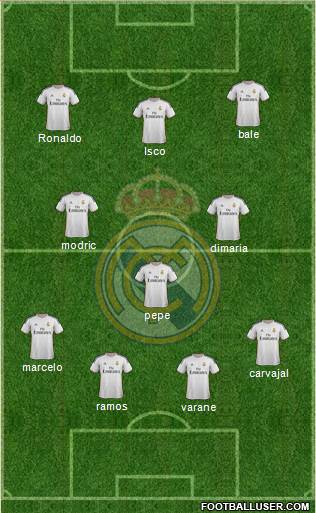 on offensive end, pepe cant do much shit but modric dimaria would more than enough to initial the play, as we saw dmaria been involve in more midfielder role this season, thou he had few bad game, but he been acting as the engine of offensive play.
isco would act as false 9 or watever u name it. and actually he been heavily involve himself in opponent box as well.
we play good game when dimaria isco and modric start/ together on field.
the last part would be same old, ronaldo and bale are Free to roam & shoot front there.
what's your guys think bout this.

terrance511

First Team





Posts

: 1277


Join date

: 2012-08-16



casemiro over pepe are ok as well on the case.

_________________

terrance511

First Team





Posts

: 1277


Join date

: 2012-08-16



nope, besides there are barely any true 'dms' anymore. please keep pepe out of the midfield, what ever you do. ramos too (supermag). di maria too (just noticed that- hes not a midfielder)

what madrid need is a b2b player with a brain and technical ability like matic, vidal, lars bender.. anyone to displace khedira.. who dont get me wrong has been useful but seriously limits the midfield.

i really like how illarra played midweek. a midfield of modric--illarra--matic would be immense.

vanDEEZ

Fan Favorite





Club Supported

:


Posts

: 5869


Join date

: 2011-06-05



matic and bender are not b2b and I would stay the hell clear of Matic the guy had half a god season in a league that made Garcia look like the best DM in Europe and Arbeloa jnr the best offensive LB in the world

And DiMaria can play in a midfield three, he does it for Argentina and has done it for us. he played Khediras role towards the end against Copenhagen. I'd rather trust the players we have. Try a midfield three of Casemiro-Illarramendi-Isco/Modric and see how it goes. its very sad how little playing time Cas is getting eventho he has impressed everytime he has stepped on to that pitch

halamadrid2

Ballon d'Or Contender





Club Supported

:


Posts

: 20809


Join date

: 2011-06-05



Casemiro can reach an extremely high level if he develops properly and is careful(still lacks tactical awareness). He can become a Vidal like player. He is a physical beast and very good technically. He can do everything in mid( has played CM,DM,even AM and DLP in Brazil)
_________________
@Myesyats

wrote:Mane-Origi-Gigi forward line?

It's not gonna be pretty for us.
This boy knew

Valkyrja

World Class Contributor





Club Supported

:


Posts

: 10970


Join date

: 2011-11-10



If Illarramendi shows he's good enough defensively, or Casemiro steps up, we won't need one.

Onyx

Forum Legend





Club Supported

:


Posts

: 39981


Join date

: 2011-06-05



dimaria had been played as midfieder so far (atleast frm my pov). lay deep or initial play/counter there and he's more in central now.
the pepe suggestion is just a despo 1 since i don't know what's wrong with our defense.
well, the post were made be4 the copenhagen game, if illara emulate his form like the game, will gladly prefer him.

as for casemiro, he's impressive on preseason games, but so so when given the chance on official game. but can't deny he's very technically gifted.
_________________

terrance511

First Team





Posts

: 1277


Join date

: 2012-08-16



---
Permissions in this forum:
You
cannot
reply to topics in this forum