It's by definition an unfortunate reality that we are present in the competition designed to accommodate Europe's second-rate clubs, or disappointing first-rate ones. However, as Fassone has kept mentioning since late last season, it is a great opportunity, and a less demanding one compared to its big brother, for our team to get used to playing twice a week again. It would be stupid of Montella and/or the squad to take it lightly; we haven't forgotten how embarrassingly difficult it was for us in 2008-09 to beat Portsmouth and make it into the round of last 32, only to be dumped out by Werder Bremen.
Anyway, let the past stay there.
We will lose our Europa League virginity tomorrow, and we will also try, for the first time with our top players, the 3-5-2 formation.
To get down to business, let's begin with how spectacularly lucky we are: both Conti and Rodriguez, major pivots of the squad for 3-X-X formations as wingbacks, will be absent. Abate is fine, but we all remember how appalling Antonelli was as LWB the last time we played in 3-5-2 against Shkëndija. My guess is that Bonaventura will have to fill in, because Antonelli is really not a wise option. Based on the latest reports, Cutrone will definitely sit this one out, so we will be fielding two out of Suso, Andre Silva and Kalinic; unless unforseen circumstances lead to changes in the formation, namely back to 4-3-3 or going with 3-4-3.
Probable line-up:

Donnarumma

Musacchio  -  Bonucci  -  Romagnoli

Biglia  
Abate  -  Kessie  -  Calhanoglu  -  Bonaventura

Andre Silva  -  Kalinic
I have no idea how we will approach the game, but judging by Montella's decision not to rest Kessie, I imagine we will take this serious enough, at least on paper.
Personally, I guess that our attack will suck; nothing against our two forwards who by the way are not world-beaters, it's just that I'm quite pessimistic about the merits of 3-5-2, or 3-4-1-2 or whatever. I hope I'll be proven wrong in spectacular fashion, in any case.
Forza Diavoli!

IrasMaldinista

Starlet





Club Supported

:


Posts

: 533


Join date

: 2011-06-05


Age

: 30



This is our only route to CL, forget about the league. Too many better teams, cant even count on us to win barely simple games like Cagliari

Kaladin

Stormblessed




Club Supported

:


Posts

: 23680


Join date

: 2012-06-28


Age

: 28



we play AEK thursday

inb4 Silva hatrick

this guy can score whenever its not in serie a, predicting another set of goals for him

also when will Montella actually use the Europa as a srpingboard for league success, it seems that the midweek games only weaken our level of play for the stronger weekend games, we beat Austria only to lose three straight

lets at least guarantee that 1st place spot and hope that our draw from then on will be kind so that we can revive our champions league search

giovanni_milan

Hot Prospect





Club Supported

:


Posts

: 304


Join date

: 2011-06-05



It will be interesting to see how Milan will be playing in return leg. My expectation is that the players give their 100% , irrespective of the end result. It was really bad that in home game , there was no spark to win balls , to penetrate in the final half , to keep possession or to do tackle to break the rhythm of the opponent.


zenmaster

Starlet





Club Supported

:


Posts

: 618


Join date

: 2014-05-01



We did better the second half against Arsenal, but we need to do better. Still I am encouraged by this team and the game against Genoa was solid. Could we overcome the deficit and win against Arsenal in London? Never say never.

GiancarloC

Starlet





Club Supported

:


Posts

: 514


Join date

: 2017-07-16



Return leg tonight :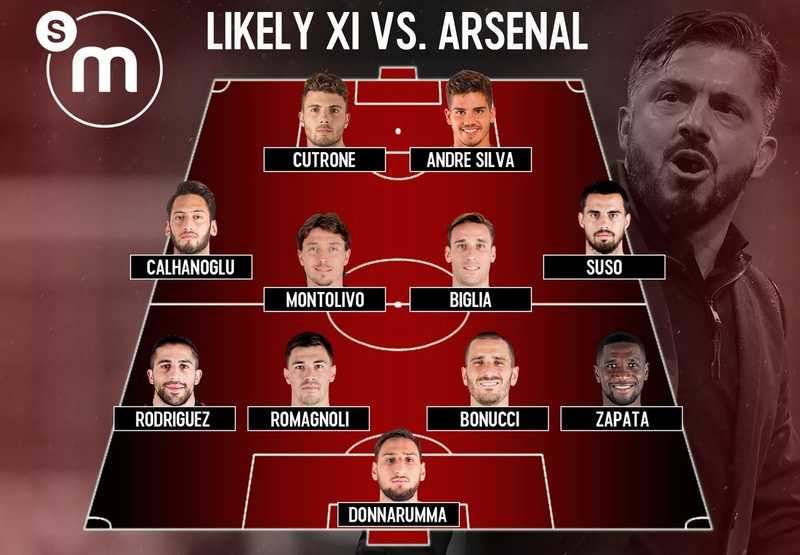 zenmaster

Starlet





Club Supported

:


Posts

: 618


Join date

: 2014-05-01



There was an effort, but it simply wasn't enough. This team needs something more upfront. I like Cutrone and Silva, but we need a world class striker. Maybe Dzeko would still want to move.

GiancarloC

Starlet





Club Supported

:


Posts

: 514


Join date

: 2017-07-16



Dzeko is far from world class unfortunately. We should've got Aubameyang

Cruijf

First Team





Club Supported

:


Posts

: 3751


Join date

: 2011-06-05



---
Permissions in this forum:
You
cannot
reply to topics in this forum