+12
Katy Perry
Warrior
BarcaLearning
Rebaño Sagrado
julias
rincon
M99
Hapless_Hans
Valkyrja
Firenze
Kaladin
breva
16 posters
Page 2 of 2 •
1, 2
Warrior wrote:how many languages do you speak man ??
4

breva

First Team





Posts

: 1941


Join date

: 2015-03-03




Rebaño Sagrado

Fan Favorite





Club Supported

:


Posts

: 5928


Join date

: 2011-07-30



Amazing read
I know what you're thinking.

"What happened to Alexandre Pato?"

Let me explain, with @TPTFootball.https://t.co/91hZga6CVM

— PATO (@Pato) May 31, 2022
https://www.theplayerstribune.com/posts/alexandre-pato-soccer-orlando-city-mls

RealGunner

Admin





Club Supported

:


Posts

: 89509


Join date

: 2011-06-05



That was an interesting read, RG

Thimmy

World Class Contributor





Club Supported

:


Posts

: 12856


Join date

: 2011-06-05


Age

: 34




BarrileteCosmico

Admin





Club Supported

:


Posts

: 28228


Join date

: 2011-06-05


Age

: 33



He was one of my favorite players during that era, i was fully convinced he would've been the world's best at some point during the future had it not been for injuries, i always like to think that Aguero was a final version of Pato.
2010-12 was his best years in the club, and i think it was the period where he was the most healthy. That goal against Barca, the curler against Napoli, the supercoppa goal, his derby double against Inter. He gave the fans some incredible moments and memories.
I still remember when PSG offered us 50m for him, Leonardo at that time had a rage boner for our players (as he usually tends to do). I was vehemently against it, especially for Tevez whomst i was really against. Safe to say i came out wrong in that situation, Tevez went on to become an incredible signing for Juve, whilst Pato withered away in Villarreal.
I still have a soft spot for him, he's a memoir of a bygone era. Here's his FUT card to reminisce the good times.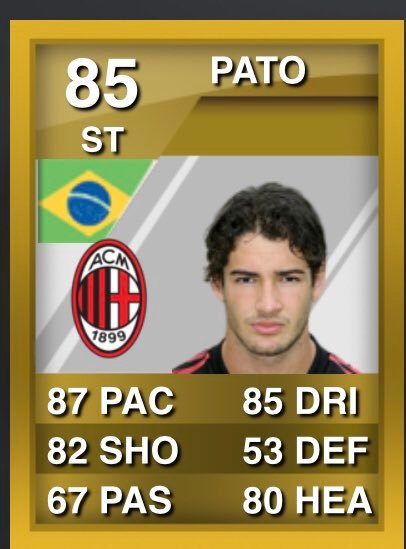 Kaladin

Stormblessed




Club Supported

:


Posts

: 24585


Join date

: 2012-06-28


Age

: 30



The hype was real behind Pato.

The talent. It wasn't sentiment or mere favouritism he was that good.

Where it all went wrong is a problem that plagues a lot of modern strikers since a lot of techniques to augment players is based on pre-historic logic akin to adding muscle on a fighter for "more power"

A lot of forwards want to follow the path of Thierry Henry. Who as we know was once out wide and made his insanely transition to the centre under Wenger.

Many have fallen victim to the idea that if they go central they will score more or accomplish what is in there head. Walcott is another example but was a player purely of pace and none else.

Sometime in 2012 or so Pato added a lot of muscle for a frame that simply couldn't handle it. Muscle over the summer and far too fast for the central transition to a CF.

Trouble is already he was injury prone but that added weight on his slight frame did not help and injury prone Pato lost momentum every time he started.

Then we had the highly hyped moron in Barbara Berlusconi who decided to date a player of her dad's organisation and the stories we heard simply told us he lost a lot of his focus and just ended up slowly, as what he is now. One of the biggest wastes of talent in recent memory.


That Napoli curler stood out for me. Pato and Ibra did not get along on the pitch so I remember the week before that crucial game all Milanisti were proud of him spending extra time in training and coming in on his own.

The goal itself was open for the most part with Zealous Zlatan screaming for the ball, Alexandre looking back at his on pitch rival/teammate and decided to go for what was a very audacious shot that blew past the goalkeeper.

His Barça goal was my favourite though given it was against prime Barça in Camp Not and the pace on display along with the gazelle gallop to set up for a confident finish had me go berserk.



Arquitecto

World Class Contributor





Club Supported

:


Posts

: 11824


Join date

: 2011-06-05



Page 2 of 2 •
1, 2
---
Permissions in this forum:
You
cannot
reply to topics in this forum