How many of you actually believe this?

Firstly, that money will be invested in large amount in the squad? We've had money, we have over a hundred million tucked away, that's a whole lotta gervinho's that were never bought!

As for getting giddy over our commercial deals...Puma 30 mill a year? Sounds good, even though Puma sucks


But the renewed emirates deal? Awful. 30m is not good considering we have stadium naming rights as well. Man U is getting 45m just for the main shirt. They are getting an extra 10m ( I think) for training shirts from DHL. That makes its 55m – almost double amount without stadium naming rights, which by the way is like a 15 year contract! By which time our rivals will be able to get better deals and we're stuck with them againexactly like our last deal with Emirates. So much for ''business model''

Just wait a couple of seasons, this puts us on par with the last deals of our rivals, when they go out and get their next ones in the near future they will again leave a significant gap between us and them.

1991

Hot Prospect





Club Supported

:


Posts

: 387


Join date

: 2013-05-18


Age

: 31



Not sure if this needs its own thread but ok.

But forget all the money talk, etc. What is about this season than seasons in recent memory is not having to rebuild, or make up for massive gaps that players who walked on us have left.

We don't have to worry about that this year. First season in years that is building on a base we set last season and improving from where we left off, instead of starting from scratch not knowing what the team is going to be like next season. Or what the actual needs will be with all those changes to the staff etc. That should be the biggest reason for optimism going into this offseason. Team chemistry is vital. Chemistry, not some big signing in the back made our defense top class last half of the season. With some assistance from Steve as well Im sure, but keeping a group together without the fear that the ship is sinking so why bother working hard to improve is a must for improvement.

And to the whole gervinho thing, he was a sought after player, we got him and he flopped. It happens. Arsenal in the past several years, knowing theyd have to replace players, and buy more on top of that in order to not just replace but improve as well (in theory) opted to go sign multiple players instead of spending big on just one or two and settled with second best options rather than their number one targets. Because that doubled the odds of getting good contributions to the team. Its not a philosophy I agree with but there is a logic to it. Arsenal didnt want to spend the majority of whatever portions they had to spend on players when they had to replace their best ones at the same time on a more expensive flop. And also, we can rag on them for signing guys like gervinho but last season we bought four players which we got for about 50 million, and every single one of them is class.

While the whole Jovetic thing with an apparent 2-5m gap that Arsenal seem to refuse to meet might seem like its the same song and dance all over, lets not get out of hand yet. The Window hasn't even opened yet. For the most part, out of all the clubs out there, there are barely any complete confirmed transfers at all amongst them. Just rumor after rumor after rumor. Heck even Mourinho to Chelsea from what I understand isn't even officially official yet. And we all knew that was going to happen months ago.

To me, there is justified reasons to be optimistic now more than ever. Every other team that finished top 4 next season other than us is having a new manager next season. We have no idea what its giong to be like, or what signings we will make. So lets save the doom and gloom until its actually time to do that, if it comes.

VendettaRed07

First Team





Club Supported

:


Posts

: 3447


Join date

: 2012-08-09



The commercial deals aren't as good as Man Utd and the most elite clubs overall in that respect, but as people have stressed (here and elsewhere) Arsenal are playing catch-up in that department. Only patience will see this out. Puma is a really good step in that direction.

To echo Vendetta, I think the main thing is that we don't have to see the club rebuild this summer. Even if Vermaelen or Sagna were to leave, the club would have to find suitable replacements. This time we're looking at trying to build up the mountain, not fill in the giant hole in the ground.

Personally I don't expect Arsenal to spend the whole much-ballyhooed £70-100 million in this transfer window, but at the same time I'd be surprised if the transfer record wasn't broken at least once.

Chumlum

First Team





Club Supported

:


Posts

: 2406


Join date

: 2012-08-07



VendettaRed07 wrote:Not sure if this needs its own thread but ok.

But forget all the money talk, etc. What is about this season than seasons in recent memory is not having to rebuild, or make up for massive gaps that players who walked on us have left.


Mostly since we are still trying to rebuild from the players that the team sold off over the last few years.

6unner

First Team





Club Supported

:


Posts

: 1428


Join date

: 2011-06-06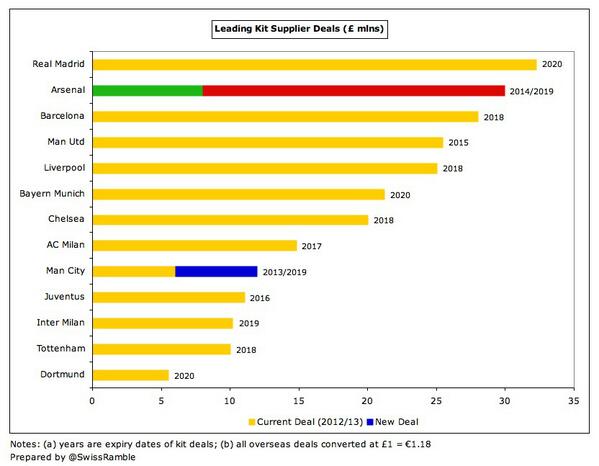 If details of #afc £30m Puma kit deal are accurate, would be highest in England & 2nd highest club deal in world. (@SwissRamble)
Most clubs tied in to long-term deals, so only Man Utd likely to leapfrog any time soon.
That's a MASSIVE improvement from what we had, plus the £30 million per season we'll get from Emirates till 2019 (Man Utd will get £45m a season until 2021 from Chevrolet).
So yeah things are definitely changing... we don't have to sell our best players to reach profit anymore and some of the profit will be spent on signing and keeping the great players. Of course we're still behind the likes of Man Utd who are commercial kings and Man City who get ridiculous money from Etihad but we're definitely up there with the big boys in terms of revenue.

urbaNRoots

First of his name




Club Supported

:


Posts

: 17176


Join date

: 2011-08-11




Peccadillo

First Team





Club Supported

:


Posts

: 1054


Join date

: 2012-08-14


Age

: 35



---
Permissions in this forum:
You
cannot
reply to topics in this forum